Pillow Talk Is Perfect for…
Museums:
"The Endangered Species Condoms proved a strong attraction for our guests and a wonderfully playful gateway into connecting the dots between human behavior and its larger consequences on the environment. The mission of increasing awareness of our impact on the globe – from climate change to infringing on natural habitats – can and should be a part of our daily consciousness."
- Adrian Orozco, Membership & Marketing Associate, Mexic-Arte Museum
"I was first introduced to the Endangered Species Condoms at an informal science conference and thought they were a great fit for our Thinkery 21 event. Pillow Talk is engaging, interactive, and spurs great conversation and different thought processes that guests haven't experienced yet. It's popular with the public and volunteers are able to explain the interpretive piece to make the connection. The science component also fits in with what we're doing as a STEAM organization."
- Anjoli Fry, Public Programs Coordinator, Thinkery
Science Centers: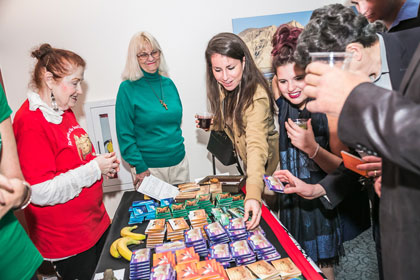 "The Endangered Species Condoms project demonstrates how two topics, which can sometimes be taboo, are tied together. We're here together with these endangered species and if we don't think about the whole picture, they may not be around for long."
- Adam Piazza, Adult Programs Specialist, The Franklin Institute Science Museum
"Engaging the public around challenging topics is, well, challenging. That being said, the subject matters that may be most difficult are often the most prescient. The Endangered Species Condoms are a perfect way of broaching a serious conversation in a playful and engaging way. Each time Pillow Talk has participated in one of our adult evening programs, their presence has been a huge success."
- Matthew Harman, Senior Program Developer, Exploratorium
Zoos:
"The Endangered Species Condoms provided by the Center for Biological Diversity are a fun and unique way to bring attention to human impacts on our environment, all the way from small daily tasks, to procreation. These condoms are a take-home reminder of how each of the choices we make can affect not just endangered species, but all species, including ours."
- Stephanie Hartman, Education Director, Alaska Zoo
"At Safari West, we strive to impact our visitors by encouraging them to be active participants in conservation. One of our favorite events is our annual "Rumble in the Jungle" Valentine Safari where the Endangered Species Condoms steal the show and allow our guides to humorously open doors into wildlife conservation that may otherwise have been closed."
- Alex Coburn, Education Coordinator, Guide Supervisor, Safari West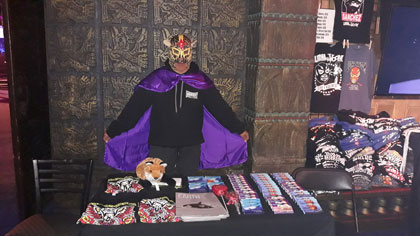 "The Center for Biological Diversity's Pillow Talk table and activities is always a welcome and important feature of our 21+ evening events. Their messages fit well with the conservation and sustainability themes of our Wild@Night series. We appreciate how they take a difficult and potentially controversial topic — human population — and creatively discuss it with our guests."
- James Madden, Director of Education, Lindsay Wildlife Experience
… and other extracurricular educational institutions.
Here's what our volunteers have to say:
"The game that asked people to guess how much their life decisions save in terms of annual CO2 emissions was especially successful. It really brought the message home after everyone underestimated the impact of having one fewer child. People would have this Aha! moment and then realize why we were handing out condoms."
- Arnie Schoenberg, San Diego, CA
"I think the Center for Biological Diversity's message is important because we should all be consciously contemplating our personal resource consumption and actively practicing more sustainable use to protect our natural resources for the future health of our global environments. As a volunteer, I immediately saw positive changes in people's expressions and increases in enthusiasm for listening to our message when I mentioned the condoms. People seemed much more engaged by the unusual topic and were genuinely excited about getting to take the packages home to show people."
- Lorna McCallister, Gainesville, FL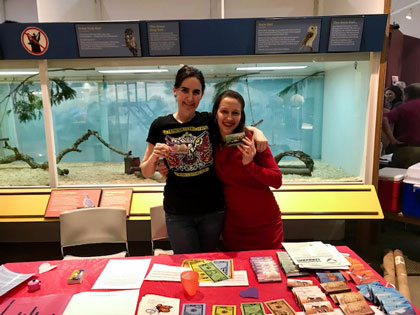 "I enjoyed volunteering for the Endangered Species Condoms event because museum visitors were so interested. They laughed and enjoyed our discussions. Many agreed that human population is an important topic. At least one participant noted that the Endangered Species Condom display was the best display at the entire event. Many couples shared that they were not having children, or perhaps had one or were done with reproducing.

Human population is a discussion we must have to save all the other species that humans threaten and endanger. This is a fun way to get a conversation started. Perhaps there will be a "tipping point" when human population becomes a topic that we all discuss. In the meantime, we must talk about it and get it out in front of people. "
- Dena Turner, Portland, OR
"There were a lot of young people at the museum during the Adultologist celebration who came by our table and learned about the importance of reducing their carbon footprints. Having the condoms available with pictures and verses about endangered species on the boxes helps to bring home the need for planned and responsible human reproduction."
- Elaine Barrett, San Diego, CA